Eruption of the Cumbre Vieja volcano on La Palma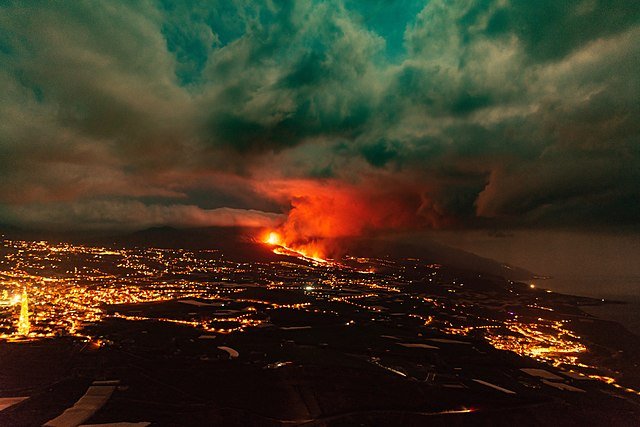 At the moment I am often asked whether the volcanic eruption of the Cumbre Vieja volcano on La Palma can be noticed here on Lanzarote, and I can say thanks to God that we are not feeling any effects here at all! We neither notice the numerous earthquakes, nor do we see any clouds of smoke, gas or ash here and we certainly cannot see the island of La Palma from Lanzarote, as it is at a distance of about 470 km as the bird flies from here.
The volcano has so far destroyed almost 1,000 houses, most of which were residential buildings. Residents in the affected areas have been evacuated and brought to safety. The lava flow has now reached the sea, and the island has expanded by around 30 hectares with a rising trend. The volcanologists are unable to say how long the eruption will last.
By the way, volcanic eruptions are not uncommon on La Palma, the last eruption of the Cumbre Vieja took place in 1971, before the volcano erupted for the last time in 1949. The last volcano that was ever active on the Canary Islands was a submarine eruption in 2011 off the small island of El Hierro, from which, however, apart from a discoloration of the sea water, no effects were felt.
The last volcanic eruptions on Lanzarote took place from 1820 to 1824 in the Fire Mountains, today´s Timanfaya National Park; before that, this volcanic area was active from 1730 to 1736 when 32 volcanic cones were formed and around 20% of the island´s area was covered with lava, including the village of Timanfaya.
The destructive power of the lava goes hand in hand with incredibly beautiful photos, which are taken with drones at night. How close the catastrophe and the aesthetics are to one another. In any case, our thoughts are with our neighbors on La Palma, because almost everyone of the residents here on Lanzarote knows someone who lives on La Palma.
Photos:
https://commons.wikimedia.org/wiki/File:LUN_8401.jpg
https://commons.wikimedia.org/wiki/File:LUN_8419.jpg
https://commons.wikimedia.org/wiki/File:La_Palma_lava_flows_into_the_sea_ESA23490653.jpeg
---
2 comments:

---
more photos from "Eruption of the Cumbre Vieja volcano on La Palma":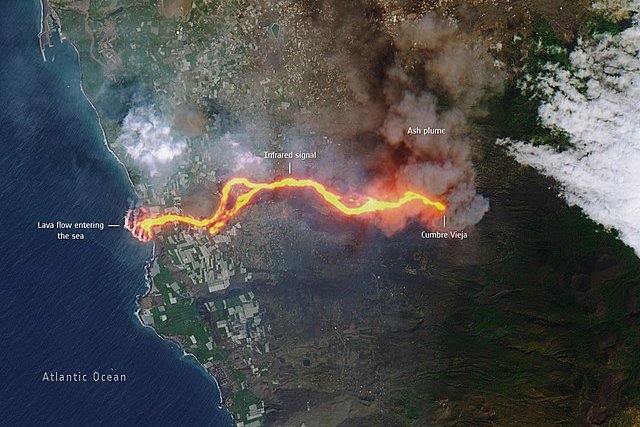 ---
categories:
keywords: Eruption, Cumbre, Vieja, volcano, La, Palma
posted: 05.10.2021