New website lanzarote-naturism.com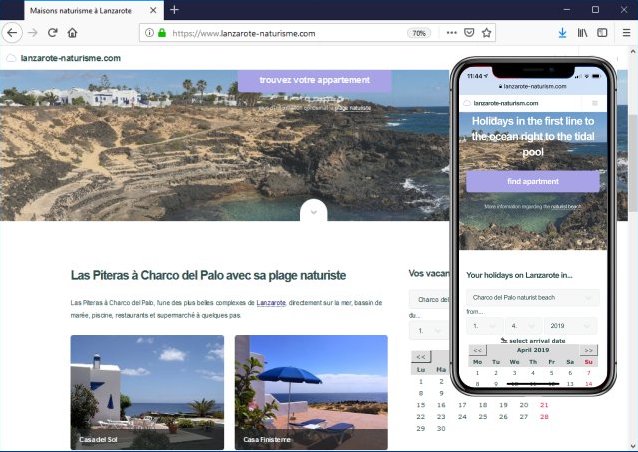 It has been overdue for a long time, but the new website
lanzarote-naturism.com
is in the meantime ready and waiting on-line. I tried to design it very simple, even if it is yet a page with great features, on which it is easy to navigate and also easy for the visitor to find his way around. I'm a bit proud ... laughing... :)
lanzarote-naturism.com
Addendum:
Triggered by a conversation with a friend raised the question of cookies. Their opinion was that a cookie is a direct or indirect advertisement. I just want to take this as an opportunity to explain what exactly happens when you accept the cookie on our website:
When accepting the cookie, our website generates a random code (a so-called session identifier), which is stored by your web browser (on your hard disk, of course). The reason we do this is that when you click from one page to another, our website still knows that you are the same visitor. This has the advantage for you if you request for multiple objects, then you do not have to reenter the date every time. The website remembers when you wanted to go on vacation. Likewise, it remembers your name and your e-mail address.
In addition, when answering inquiries, it is very helpful for us to see which apartment the visitor has visited. If the requested object should not be free, then we know approximately what can be offered as alternatives. Is that allowed? I think so! If I were a shop assistant in a shop, I would also look what you are interested in.
After 30 days (which in our experience is the longest expected period of time before anyone can or should decide), the cookie (ie the random session identifier) ​​on your hard disk is automatically invalidated. At least that's how it is with us. The associated data (in the database of our web server) are stored by us exclusively to answer the requests and deleted at regular intervals.
By accepting the cookie, no data is permanently stored or used. On the other hand, when you request for an apartment or contact us (which you can of course do with or without a cookie), your data will be forwarded to our office by email and processed there.
I then asked my friend if she had ever bought something for which a cookie would have advertised. Answer: Yes, a dog hairbrush. I then asked where she had seen the cookie and what it looked like. Answer is still pending... If someone can tell me how to sell dog hairbrush with cookies, then I'll do it too :)
---
---
keywords: website, lanzarote-naturism.com
posted: 21.04.2019